5K/10K for Charity
We strengthened the bond with community and our health on the late afternoon of September 21, 2011.
Geeks are often accused of being sedentary and insular. But Chad Fowler (http://chadfowler.com/) started a tradition of a 10K charity run the day before RubyConf each year. It's such a simple and great idea we decided to do the same at OWASP AppSec USA 2011 to benefit The Bakken Museum.
Here are most of the participants: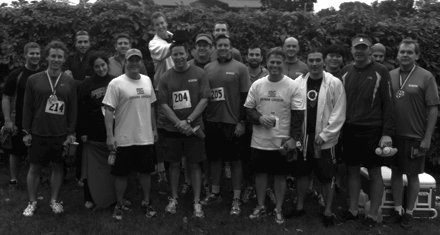 Our friends in Austin, Texas tell us next year's 5K/10K will be even better! You'll just have to attend see if they have native Yeti like we do in Minneapolis.
Thanks
We want to thank Microsoft and OWASP founder and AppSec USA 2011 keynote Mark Curphey for donating an MSDN Ultimate Subscription to support the cause - congratulations to Jack Mannino on winning this prize! We also thank all of the participants for making this a reality.
We would also like to especially thank John B, Paul K, Gregg H, Bob S, and Bob M for their help organizing the race!
Results
Congrats to Tom Conner for winning the 5K and to Dan Fiedler for winning the 10K!
5K
Tom (special mention for a creative running path: Jeff)
Dawn
Jessica
Tokuji
Kimberly
Beckie
10K
Dan F
Deke
Mike Z
John S (special mention: Jack had an injury, but we're told he and John would have been neck and neck if not for the injury)
Alex
John B
Jason
Michael C
Mark
Dan C
Dinis
Nelson
Jax
Matt
John D
Schedule
The 5K/10K was held September 21, 2011 (the day before the talks) on the following timeline.
Routes
People Who Showed Intent to Run
Mark Curphey (@curphey), Dinis Cruz (@DinisCruz), Dan Cornell (@danielcornell), Sarah Baso (@OWASPgirl), @m1splacedsoul, Jax Manko, @alexcrittenden, Richard Morgan (@northerncrown), @jack_mannino, Beckie Mossman (@beckm0), Jason Li, Jessica DeLine (@socalrunnergirl), Alex Smolen (@alsmola), Jeff Williams (@planetlevel), Dan Fiedler (@smallsecurity), Michael Coates (@_mwc), David Meier (@windexh8er), Stellmacher, Todd Guse, John Dickson (@johnbdickson), schmoilito, Andrés Riancho (@w3af), John Benninghoff (@transvasive), and at least six others
Sponsorship Ideas
Here were some interesting sponsorship ideas.
One 10K participant said he would sponsor his buddy $100 if he wore butterfly wings for the 5K! In response, said buddy would ride a bicycle (or a Segway), carrying beverages for 2 runners, and encouraging runners!
One 10K participant said he would sponsor his penpal $10 for every 10 seconds taken off of an 8 minute per mile average on foot during the 10K.
One participant said she would bug her Facebook friends to sponsor.
One participant said he would sponsor his buddy if he built a DIY LED blinky light suit for the 5K/10K.
One participant intended to seek a corporate donation.